With both home projects in which we hired Tara we found her to be professional and friendly. Our living space has been completely transformed thanks to her vision incorporating innovative use of light and space. We look forward to spending many years in our home thanks to Tara and her team who have made it a fantastic space for entertaining family and friends. We would have no hesitation in hiring Tara again in the future.

Over the last few years we have worked with Tara on two projects, a renovation project and a new build where her professionalism and creativity in delivering solutions to what we wanted and what was made feasible made her a pleasure to work with.  Tara has a strong sense of design incorporating light, space and energy solutions complemented by an understanding of what is practical to make an attractive sustainable living space.  We continue to enjoy the result of her work and are very happy to recommend her.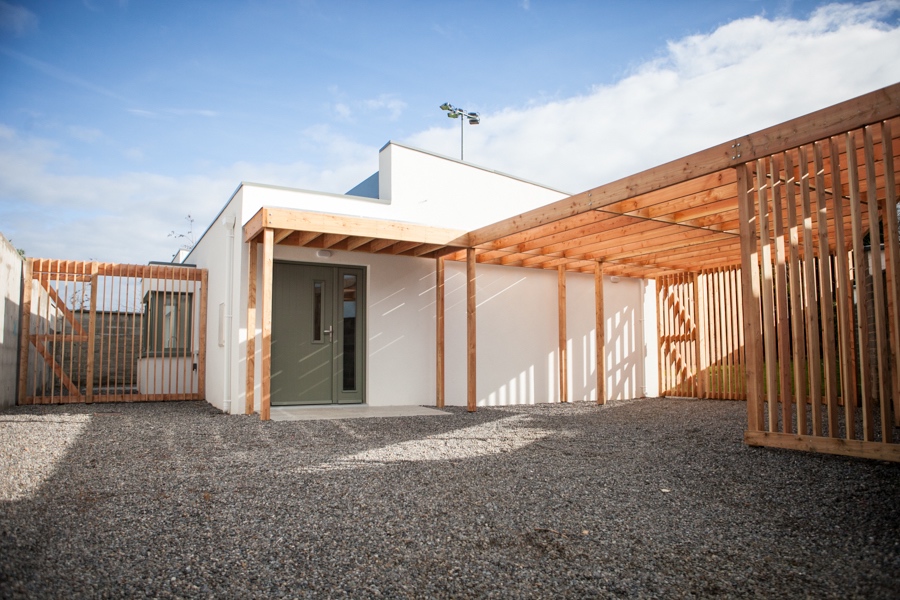 Getting Tara involved was one of the best decisions we made in our home extension project. We had a good idea what we wanted at this stage in our lives but Tara was able to advise how homes change as young families grow and what we would want in the future. Tara was very easy to work with throughout and her designs were very high quality. She had a strong working relationship with our builder and engineer which helped make things quite efficient. 
We started the project with a dated 1950's house and ended with a modern, bright, warm and well-designed house to take us into the 2020's. Where we previously had a cold dingy kitchen in one corner of the house which we actively tried to avoid, the new open kitchen dining area is now the centre of our family's life. Adding a downstairs bathroom, utility and plenty of storage also brings a level of practicality that we are really delighted with. 
Tara came up with wonderful ideas to create as much light, space and warmth as possible and most importantly, she did it all within our budget.  
Her knowledge of every aspect of building process and regulation was second to none and she ensured the builders kept to their schedule and that their works was satisfactory.
We love our home and we really could not have achieved that sense of elegance, comfort and utility without Tara.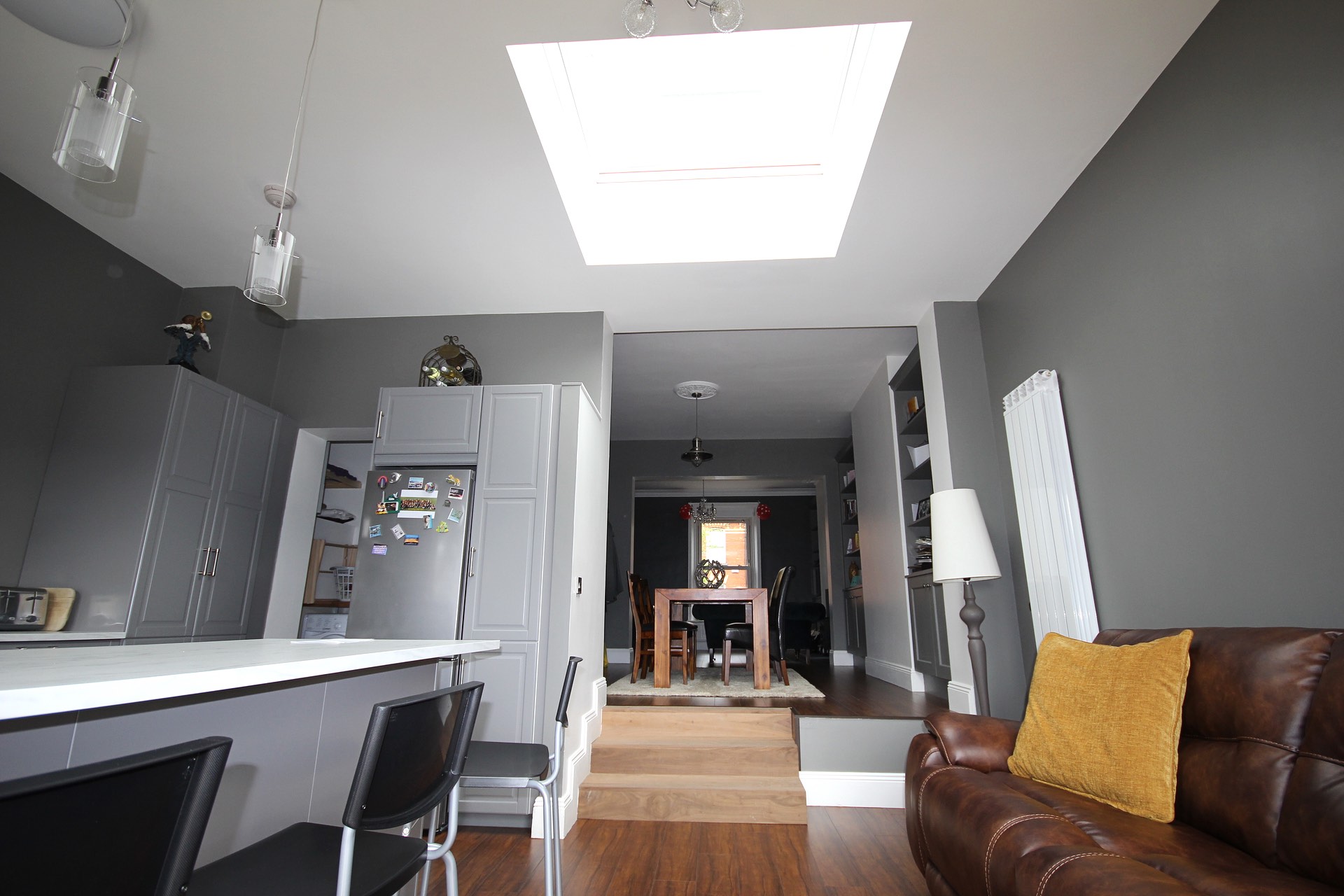 We renovated our 70 year old home in three phases over a number of years and were delighted to have Tara working on the project from start to finish. Tara's in depth technical knowledge and excellent communication skills made the whole process stress free and rewarding. The new layout is so efficient for modern day family living and filled with natural light. The design incorporates a sliding wall between the kitchen/dining area and the living area to allow flexibility in how we want to use the space. Her advice on insulation and ventilation have greatly improved comfort levels in all rooms of the house. Tara's clever placement of windows and glazed doors has opened up spectacular views of the garden and skyscape. We were very impressed with Tara's professional expertise on design, planning and contract management and we would highly recommend her services. Thank you so much Tara for helping us to create our wonderful new home!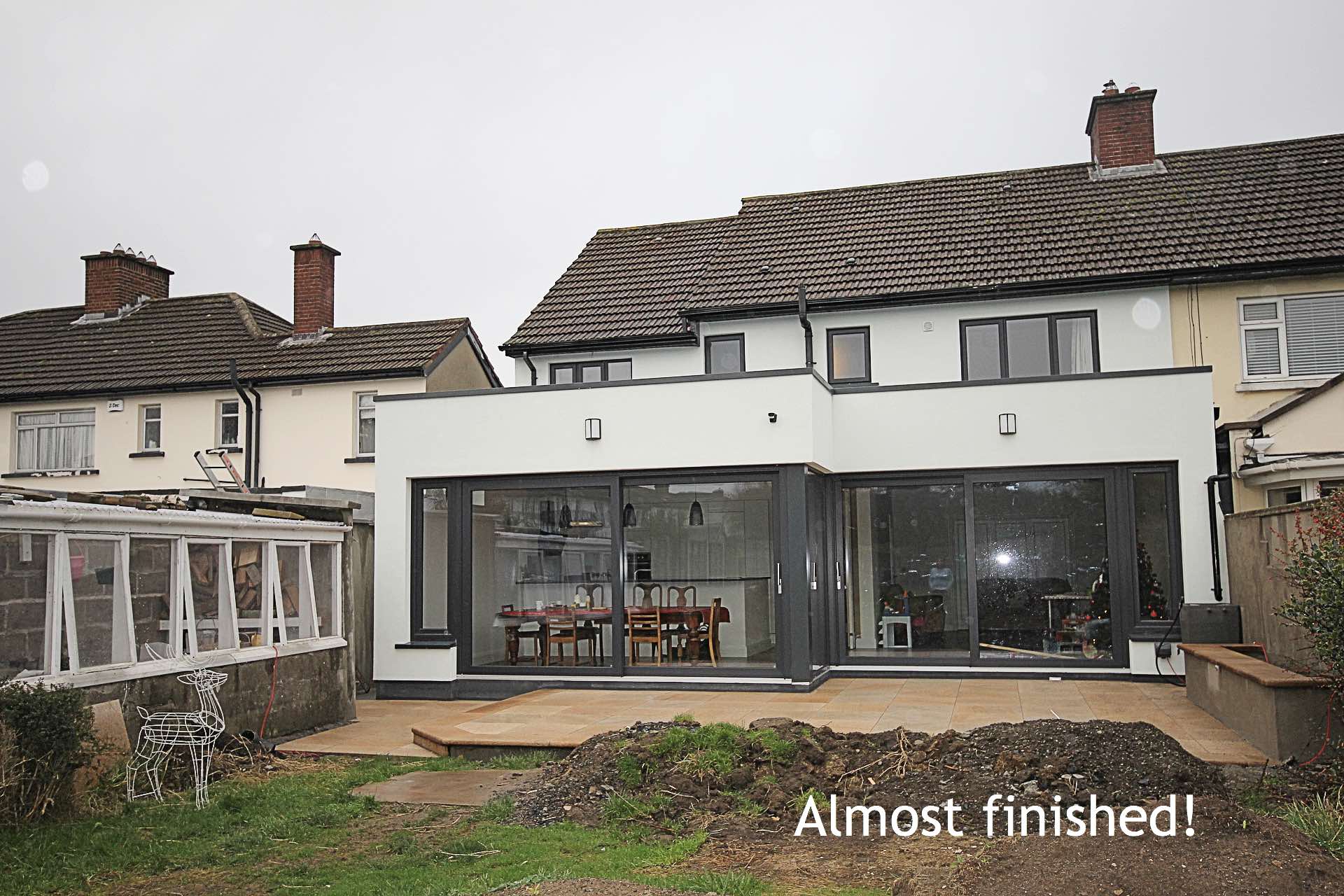 Our house in Foxrock, South Dublin, had a rather small and dark kitchen with no direct access to the garden.  We had a conservatory opening off the kitchen in which we had the dining table, as any more than 3 people eating in the kitchen was a bit cramped.  However the conservatory was very hard to heat in winter and too hot in summer.
We engaged the services of Tara Cooke, having discussed with her our requirements and the build started in May 2014, Tara having guided us thorught the Planning Permission stage and Tendering for Builders.  The entire back wall of the kitchen was removed and the conservatory and a new kitchen and dining area was built out into the garden.  Light to the whole area comes from a glazed strip with two opening velux windows, joining the existing back wall to the roof of the new build.
We also carried out numerous other improvements to the house while the builders were in, new central heating boiler, new fireplace and stove in TV room, insulation in the attic, installation of security cameras and a Sonas sound system, etc.
We moved out of the house for 5 months and had regular on-site meetings with Tara and the Builder as the building progressed.
We now have a beautiful new bright light-filled kitchen/family room with massive amount of storage, a lovely long window seat with storage under for garden cushions, etc., huge slidig doors to the garden and ample space for a large expanding dining table.  We regularly seat all 17 of the extended family for meals including Christmas Day this year.
We would be very happy to recommend Tara Cooke and her team.  She listened to our requirements and came up with a great design.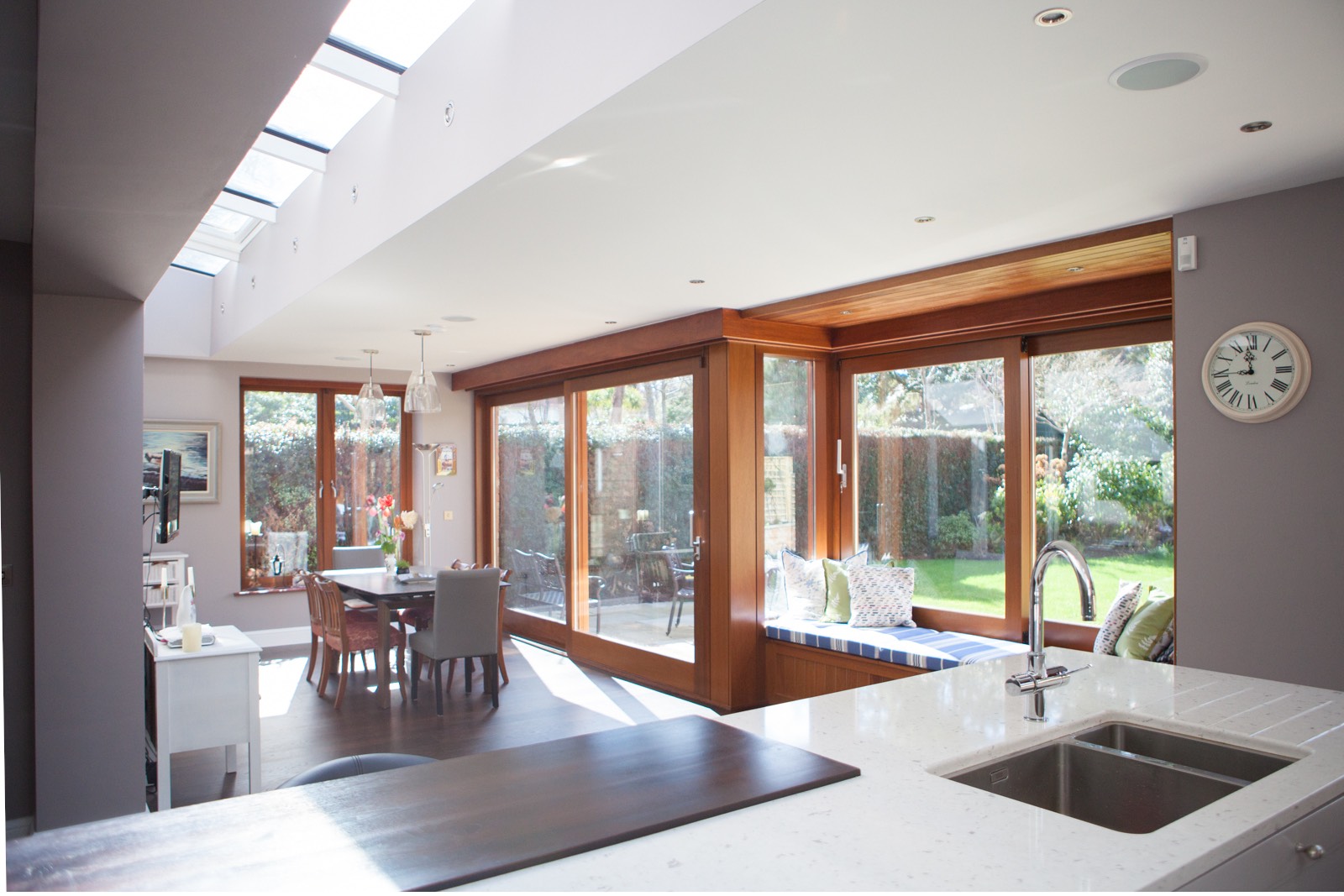 Tara Cooke is an excellent architect. Her professionalism was wonderfully complemented by her outstanding ability to guide us through a very arduous process. She carried out this in a very helpful manner and this will always be appreciated. Knowing that we could rely on Tara was crucial as building extensions and changing the whole outlook of your home is very stressfull. If Tara was unable to answer a phone call she would always return the call or email you very soon after. This is very important because there will always be questions and worries that need clarifying along the way.
Tara's brief was complicated, it was to provide an easily accessible and manageable home for a wheelchair user. Tara listened to everything we discussed and rose to the challenge with great enthusiasm and succeeded in changing an old 1970's bungalow into a modern wheelchair accessible home for our brother.
The brief included all the needs of a wheelchair user along with the provision of a carers unit and the wish for a home that embraced full integration. Tara successfully managed to provide a plan that met the required regulations for wheelchair users, yet provided a home that is wonderfully warm and welcoming and also succeeded in carefully disguising the need for ramps under the umbrella of her great Architectural skill. We would not hesitate in recommending Tara to any client looking for top quality ideas and support along he comfort of knowing you are in great hands.
Our sincere Thanks for everything. Tara both you and Alan Jenkinson, who was the fantastic builder on site, will always be welcome to call and visit for a coffee.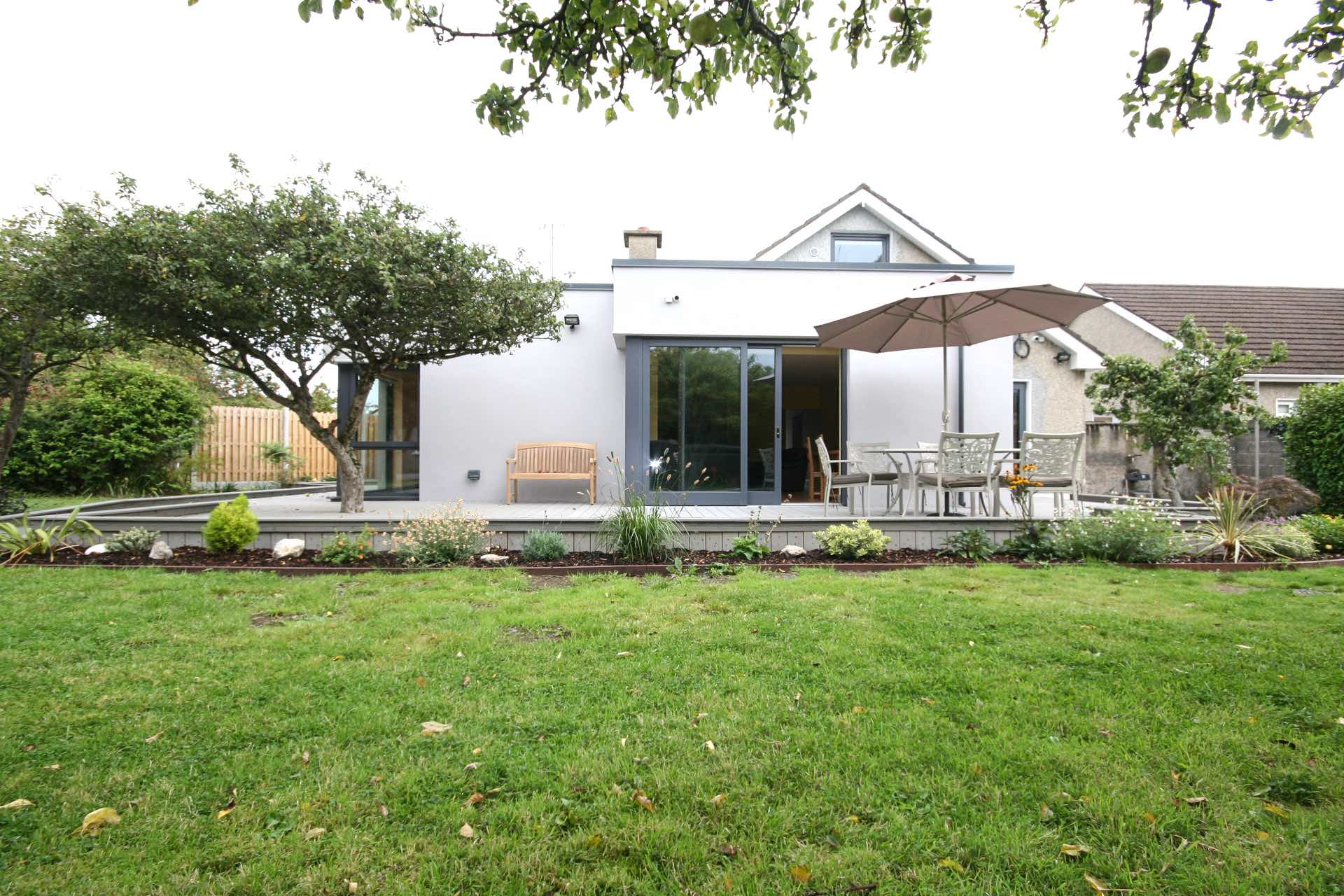 We have an old 1950's country bungalow with a small extension that was built in the 1980's.
Although the extension served its purpose, it was always too small, dark and often felt cramped. We had thought for many years about doing something to make our home more comfortable and my wife always dreamed of having a kitchen with plenty of workspace.
We went to a Home Exhibition show and that's where we met Tara and after only a short conversation, we knew that it was right time to look into this further and that we had met the right person to make my wife's dream a reality.
From start to finish Tara's professionalism shone through. Nothing was ever beyond the reach of possibility. She provided us with ideas and designs that we never would have thought possible. Beyond the design, she also managed the whole project and worked hand in hand with our builder, ensuring that short cuts were not taken, that only the best materials were used, that we received the best value for our money and a had home that we was beyond what we had ever hoped for.
We never could have done it without her.
From having a tight dreary kitchen, not only did we now have a spacious open, bright kitchen with a large workspace (my wife's dream came to life) and dining area, we also managed to add in an extra bedroom with an ensuite, a utility room and a foyer to greet our guests.
I can't thank Tara enough.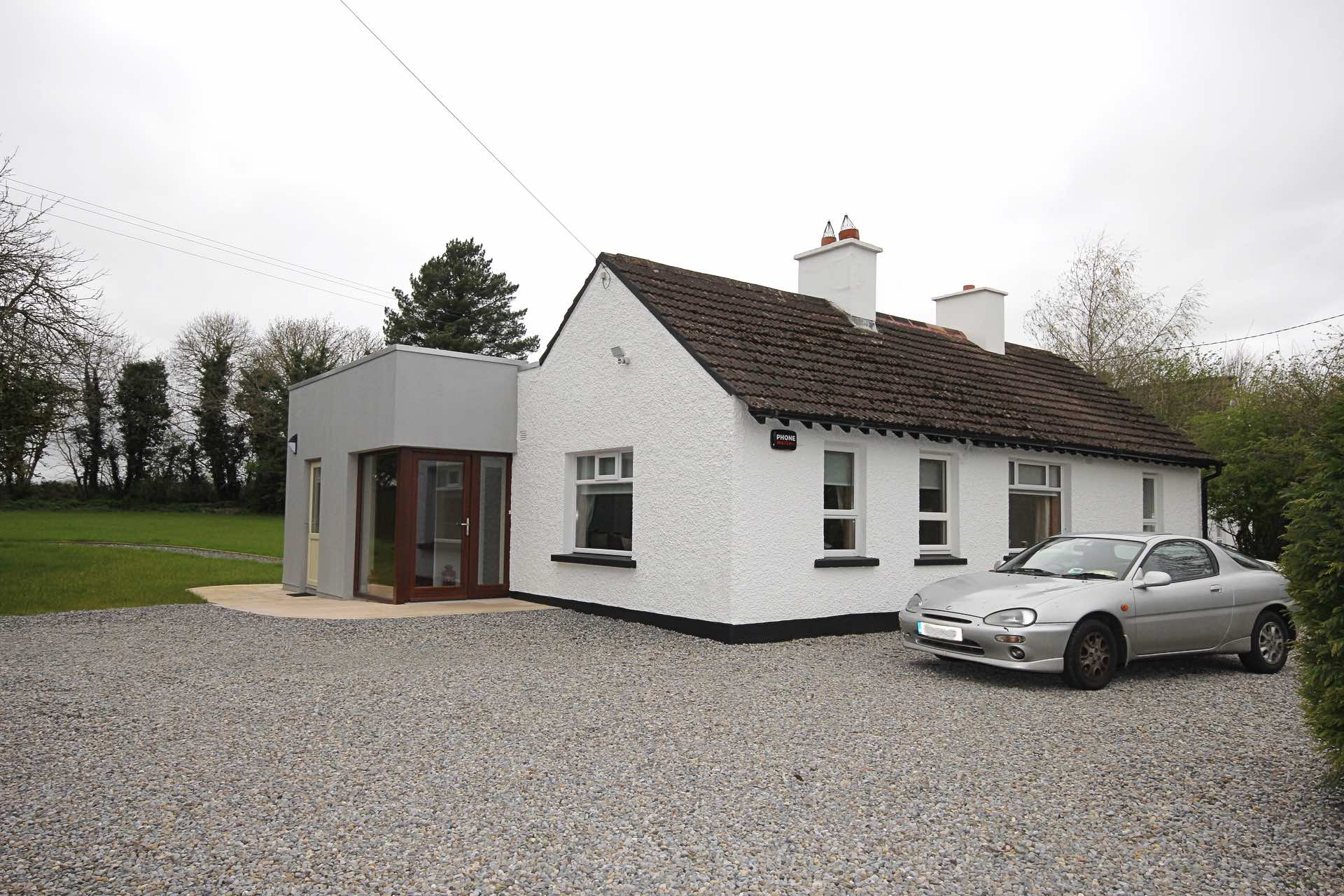 "Tara Cooke was a wonderful architect to work with. From the start she brought striking ideas to the project, for instance the elegant French doors which connect the kitchen and garden and in a climate where building contractors and suppliers were faced with cash flow problems, some so severe that they led them to close their doors, Tara managed the build with alacrity.  A deep understanding of the problems encountered th, that legendary patience of her's and the desire to go the extra mile to bring things to a happy conclusion for all, worked like a charm. Over two years later, I am still thrilled with the house every day and full of thanks to Tara for the work she put into it"
We have since gone onto do a similar project for Bettina's Mum, (Period House D7 2)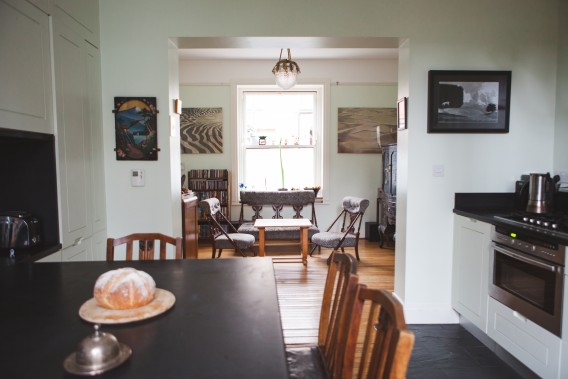 Tara has developed considerable knowlege and experience in low energy and sustainable building design and as professional colleagues we have shared our developing knowledge in response to the fast chaning regulatory environment…I Recommend Tara very highly as a competent and experience architect with a wealth of experience. Her personality, creative design abilities and strong work ethic make her an ideal choice.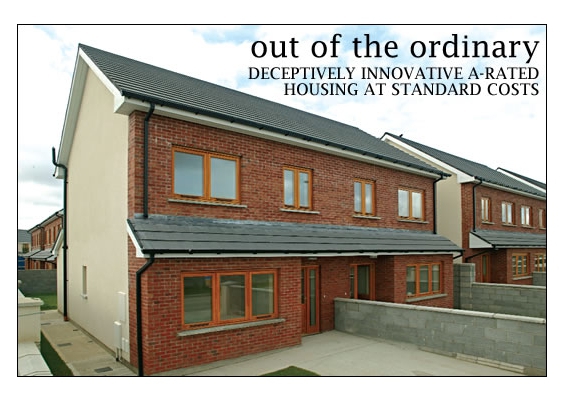 Working with Tara was fantastic. We were looking  to do a major rebuild and an extension to our house- a fairly daunting task but Tara helped us through each step of the way. 
She was easy to work with and creatively guided us right through from the initial sketching and planing phase. 
Her attention to detail and follow up with builders and contractors was also fantastic.
Our challenge was how to open up and modernise a fairly standard 3 bed house and introduce modern aesthetics, insulation and services throughout.
The result was transformational – from a cramped dreary 50's era house to a modern open plan living space full of light and views to our garden. Our kids are spoilt with space to explore while we still have some more adult spaces to chill or entertain in.
We've been immensely happy with the space to breathe and stretch in our house. From Joe Wicks workouts, to movie nights, to working from home and homework hub – it all works incredibly well.
With a build this complicated and with our budget constraints it was necessary to do the work in phases. Tara helped guide us through this process and structured the build so that we could move in and live in the house after phase 1 while phase 2.
We enjoyed working with Tara and look forward to working with her on future projects.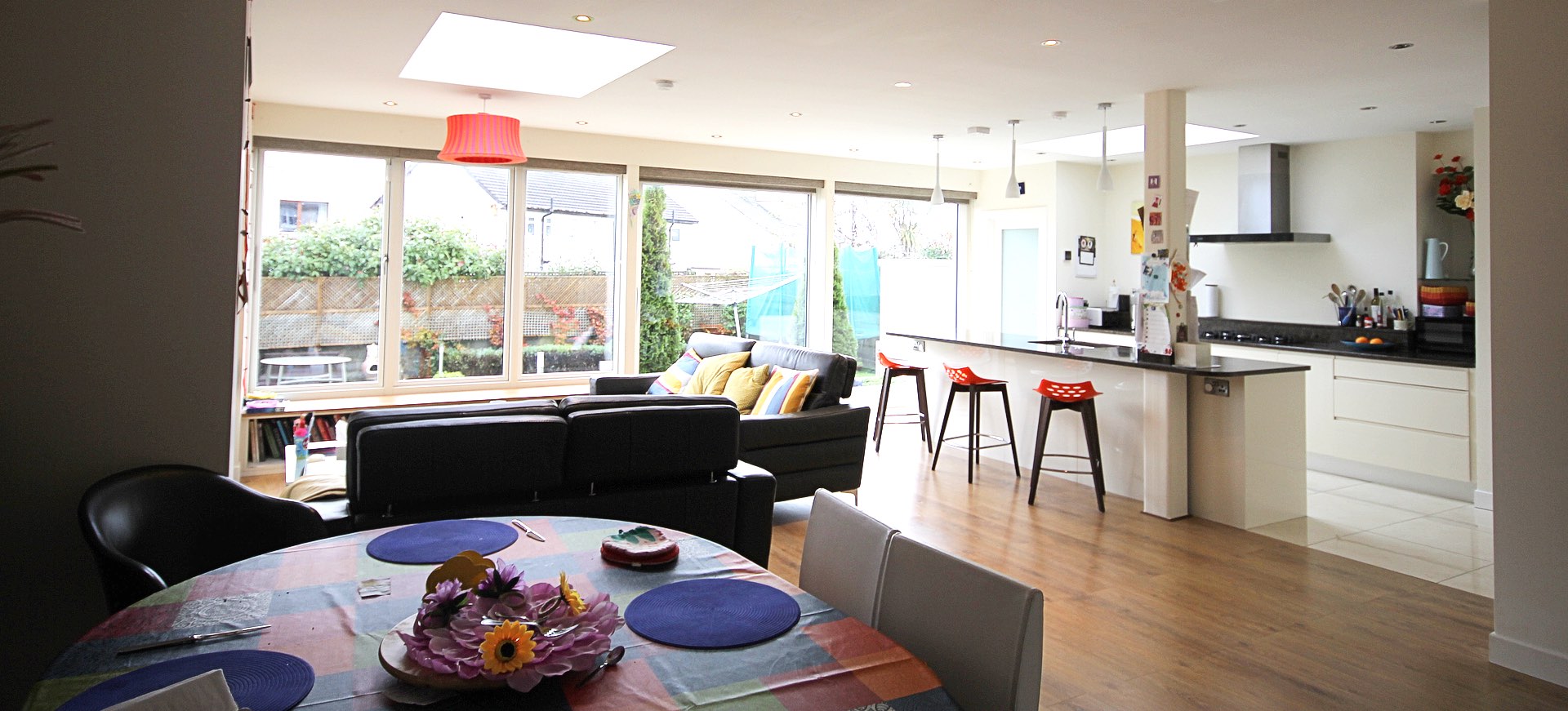 We were amazed at the versitility of the plan which more than met all our requirements. Tara maintainded personal supervision throughout the contract to ensure the smooth execution of the work by the builder and contractors. She kept me informated of any problems which involved additonals costs and made suggestions to reduce other costs with the result that we came in under budget.  Our favorite part of the renovation was the opening up of the dining room and kitchen to give a single bright and spacious area. We would certainly recommend Tara to any client.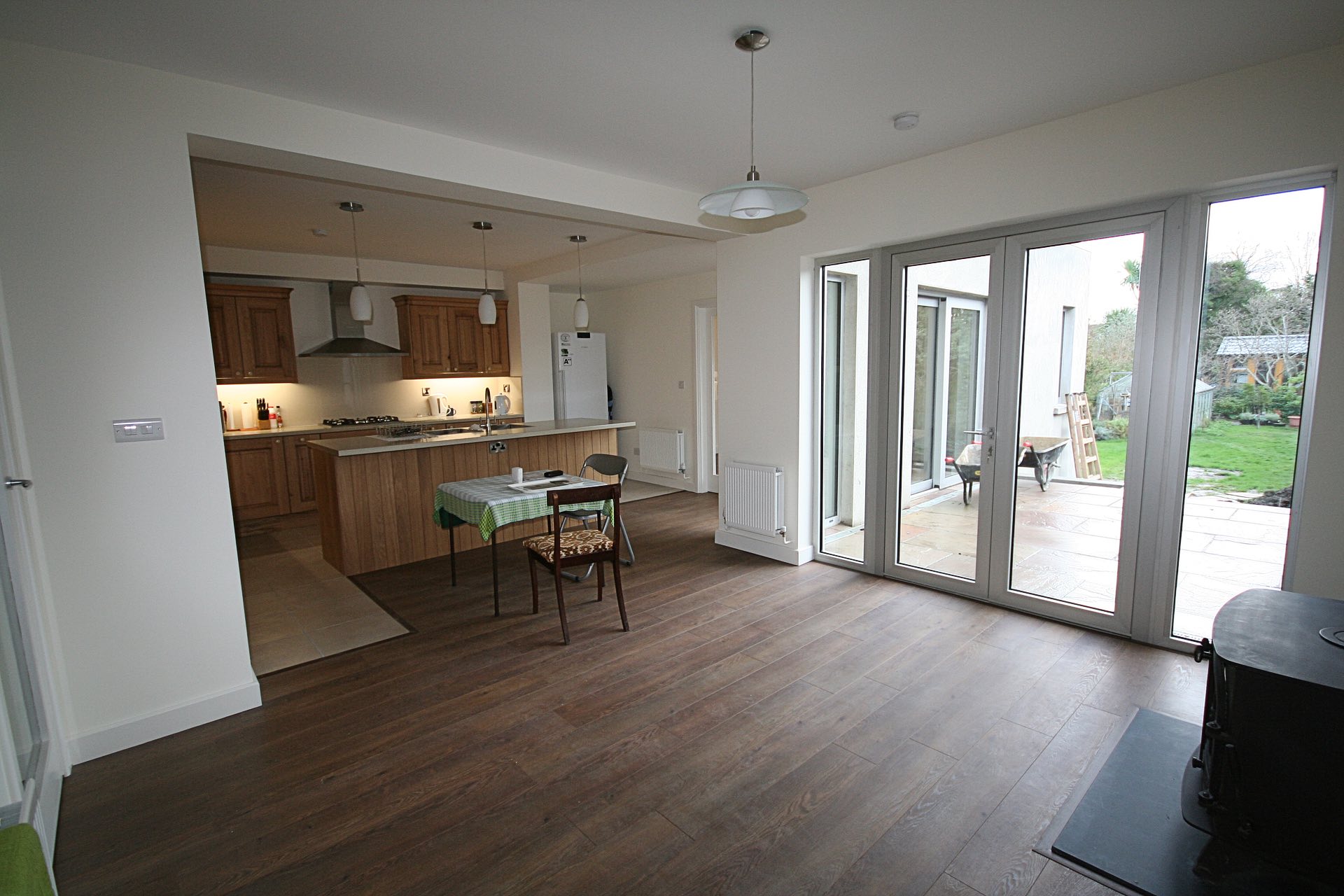 When we started working with you we didn't realise the intricacies of the work to be done. We were lucky that you were there to guide us through the ins & outs and micro-manage the finer points.  Your knowledge and research into the latest developments/ trendes in external insulation, heating stystems, windows and so much more was (is) fantastic.  Its unlikely that we would have found ourselves with such a fine home had we been left to our original ideas &/ or "own devices".  The concepts that you precneted on pater that were difficult to envisage, particularly the impact of additional light in the family room/living area, really cam through.  It makes the entire downstairs of the house much brighter.  Everyone comments on it.  The windows that you recommended are ideal and the sky-lights bring extra light exactly where its needed.  I guess it is true to say that the smart options is to listen to the expert(s)…! Thanks again for everything.