Complete transformation of a dormer bungalow to provide a bright fully wheelchair accessible home that maximizes on light & inside-outside feel with separate accomodation for a carer.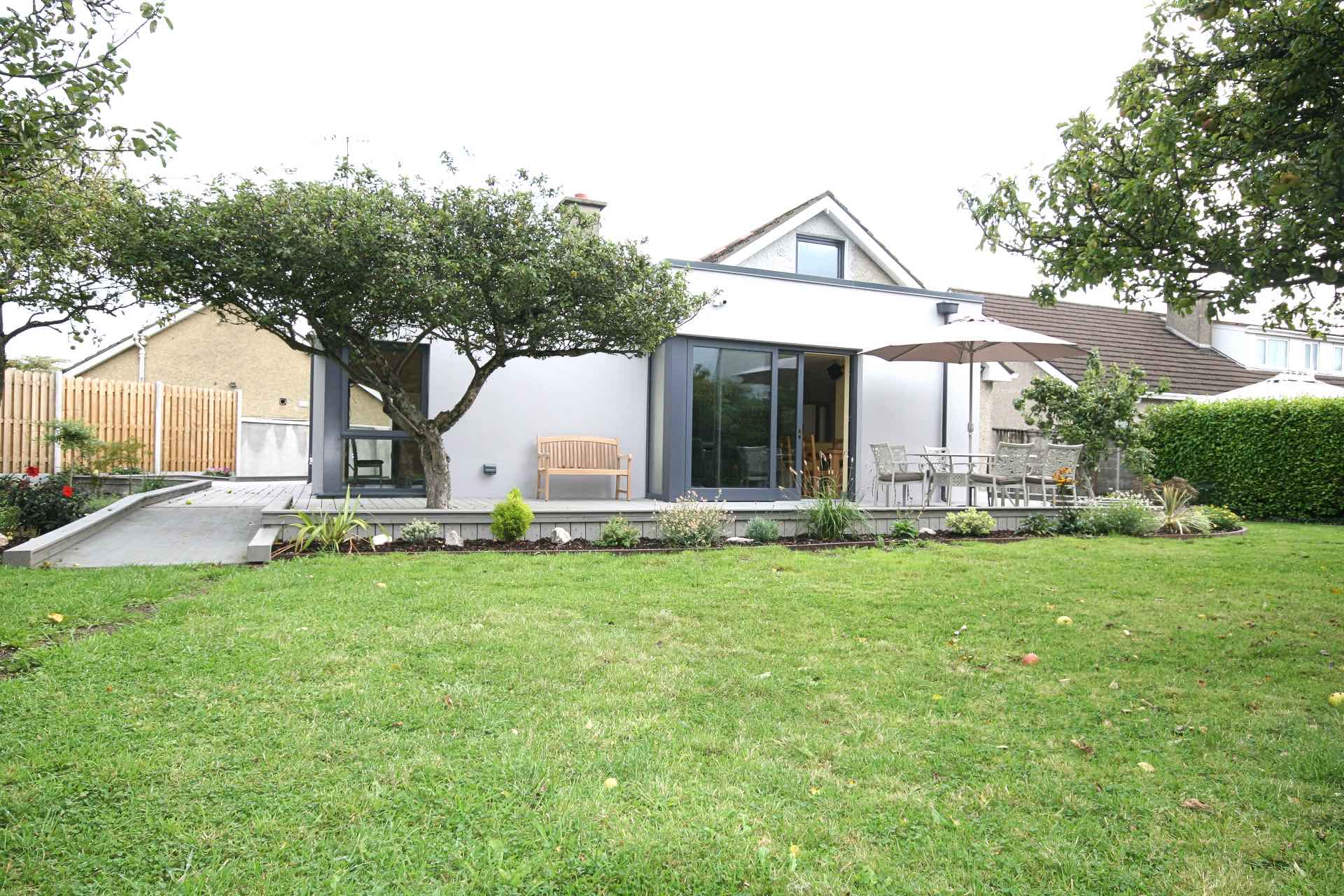 This project involved complete renewal and replanning of the house to achieve a home for a person who is wheelchair bound.  The key agenda was to truly make the house a home that could incorporate the needs and associated equipment while being a lovely place to live and for extended family to visit.  It was important to have lots of different views to give a give a change of scene feeling.  The client needed the house and driveway to be wheelchair accessible as well as outdoor space in the garden.  The dormer bungalow had a steep drive, was raised above garden level front and back and rooms and doors were not big enough to accomodate the clients wheelchair and turning circle.
The entire house was upgraded by way of a new internal layout, insulation works and demand ventilation and new heating system, underfloor heating an extension.  The ground floor of the house includes a new entrance via the converted garage, a home office/workshop, guest bedroom and family bathroom, a utility space, accessible bedroom and wetroom with hoist, a large kitchen, sitting-dining room that opens onto a large raised deck overlooking the garden. The existing dormer attic accomodation was upgraded and adjusted to provide self-contained accomodation for a carer if/when needed.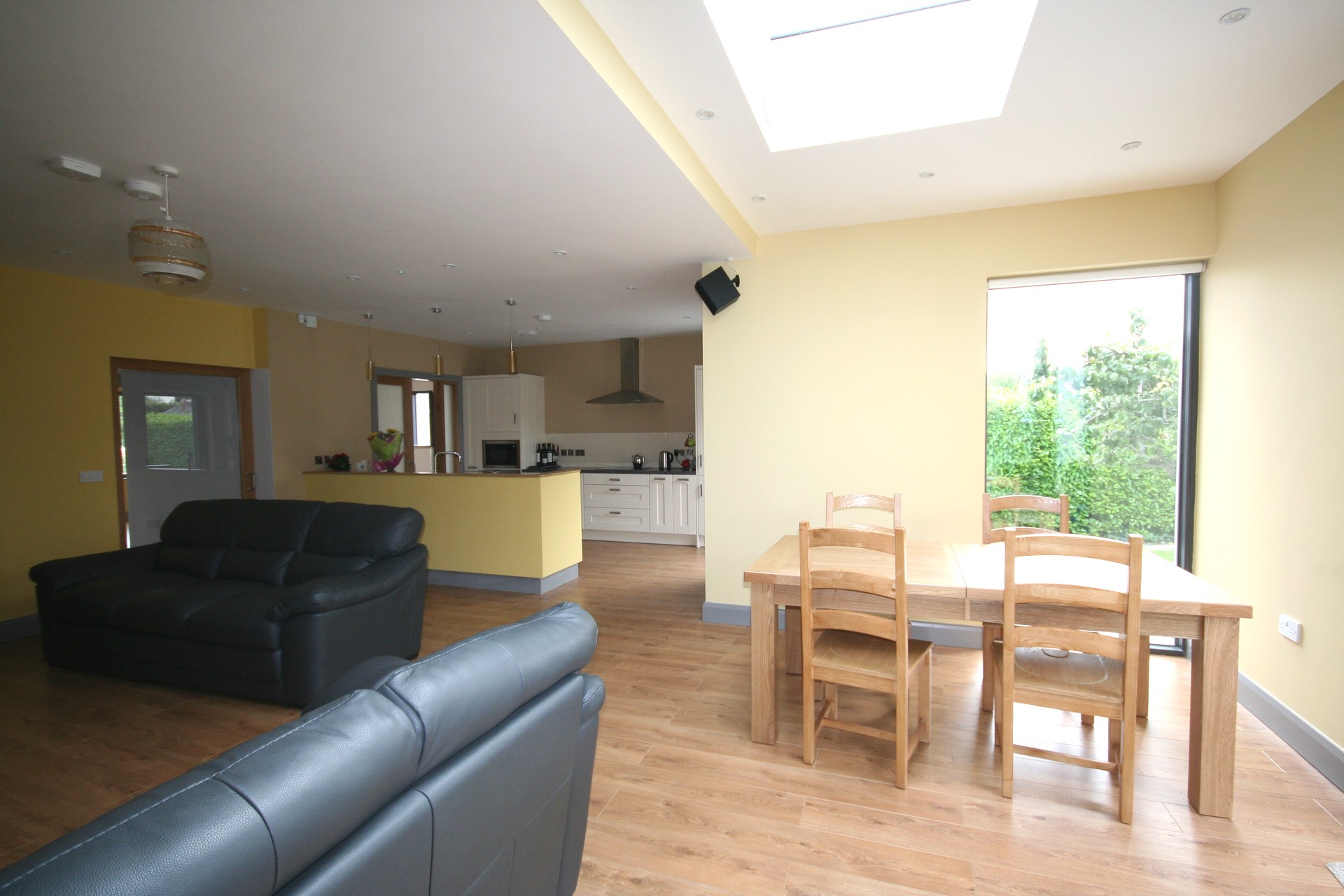 Internal doors are extra wide and slide where possible to allow for ease of access – in addition to practical benefits the oak doors give a real sense of luxury.  This project is full of carefully considered details that were discussed and agreed with the clients to ensure that the best possible home was created for them.
Daylight and external views are a key part of this project to raise spirits and give views of the outdoors coupled with automated blackout blinds to give flexibility to adjust light to suit the clients needs and feelings on any particular day.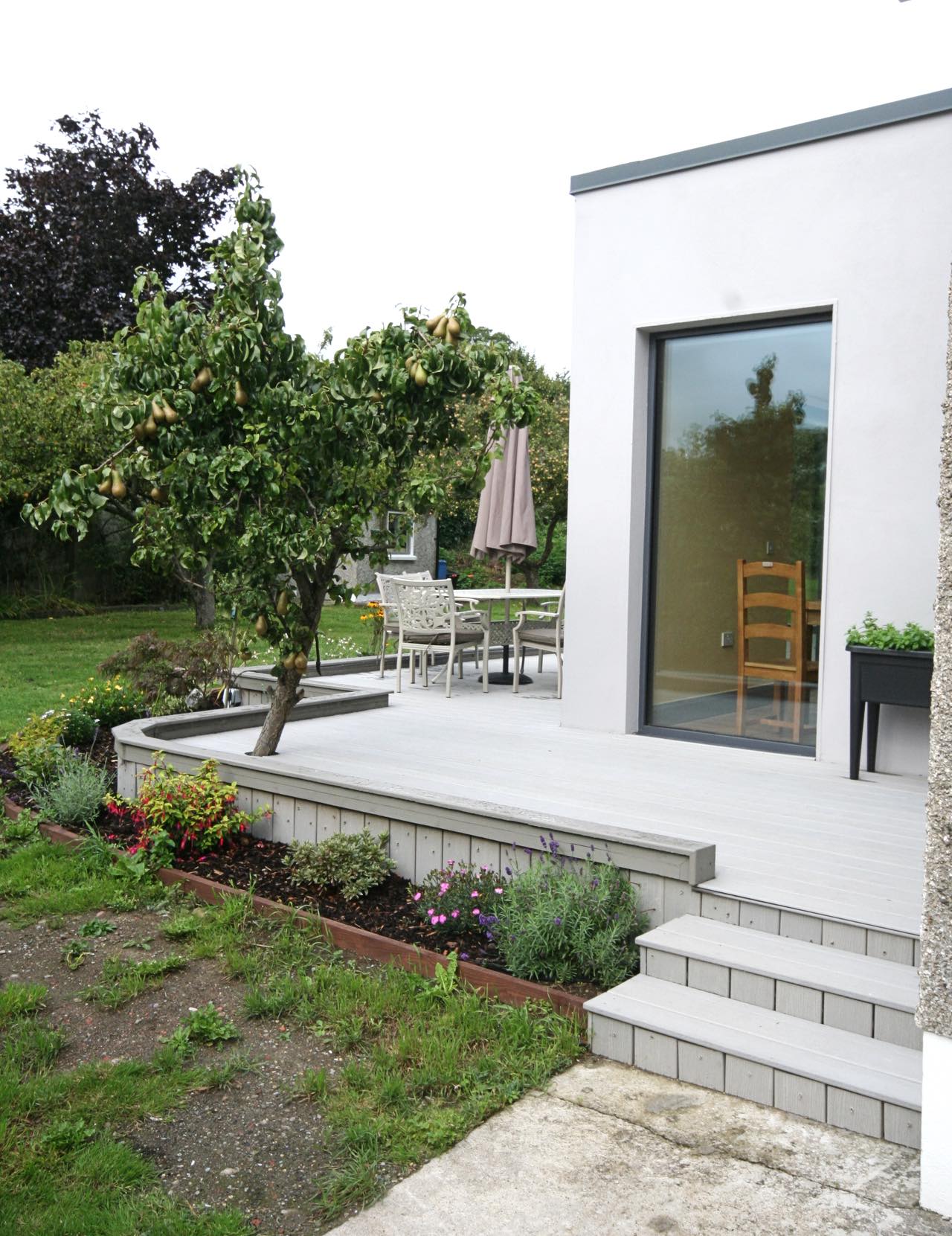 The extension and deck were designed around existing apple trees.  A kerb and planters surround the deck area to create a break between it and the garden without excessive use of guarding (railings & handrails).
The photographs below include a mix of before and after images.
We learnt a lot on this project and were very glad to work with such a lovely family to transform what was a very inaccessible, cold house into a comfortable house that blends into the local context, is full of light; a beautiful home that just happens to be wheelchair friendly.
" The brief included all the needs of a wheelchair user along with the provision of a carers unit and the wish for a home that embraced full integration. Tara successfully managed to provide a plan that met the required regulations for wheelchair users, yet provided a home that is wonderfully warm and welcoming and also succeeded in carefully disguising the need for ramps under the umbrella of her great Architectural skill. We would not hesitate in recommending Tara to any client looking for top quality ideas and support along he comfort of knowing you are in great hands.
 Our sincere Thanks for everything. Tara both you and Alan Jenkinson, who was the fantastic builder on site, will always be welcome to call and visit for a coffee."
Joe, Helen & Sue
For full reference please go to the Testimonial Page.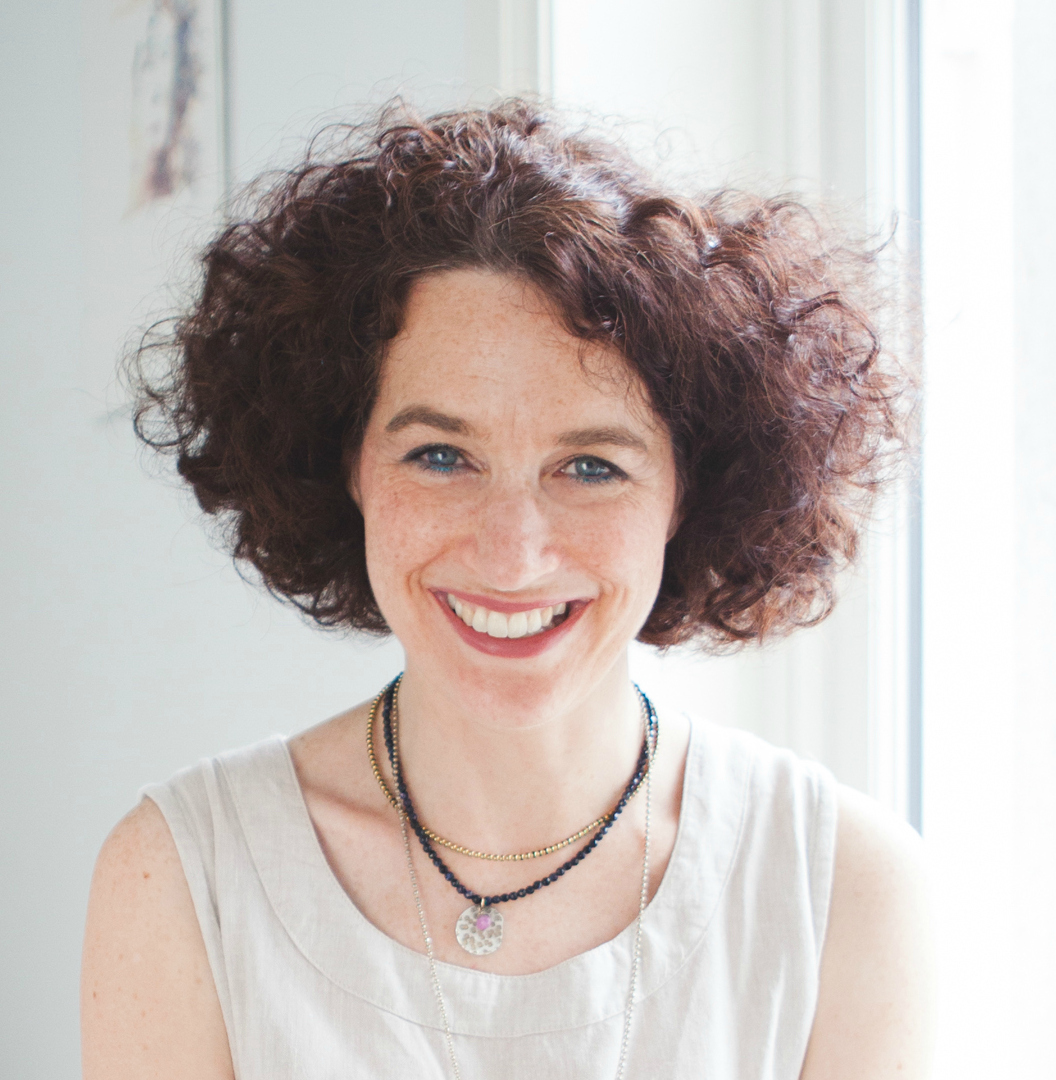 Architect B.Arch.MRIAI
RIAI Practice accredited in Conservation at Grade 3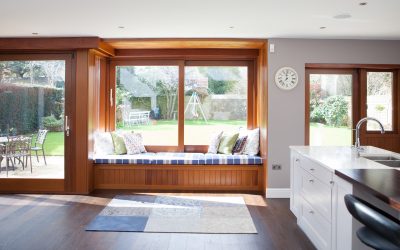 Feeling the Chill? As we experience the cold of winter are you struggling to keep your place warm, cosy and heathy? Are you busy blocking up wall vents to keep the draft (howling wind) out even though you know you shouldn't? Is it time to insulate your property or...