1930s Cottage extended and remodelled to double it's size with insulation upgrade works.  New en-suite double bedroom, new bathroom, kitchen-dining area, utility room, entrance and integrated storage, enhancement of existing living rooms and bedroom with improvements to the site entrance for safety reasons. Lots of light throughout & new connection with the garden which was not noticeable from inside before.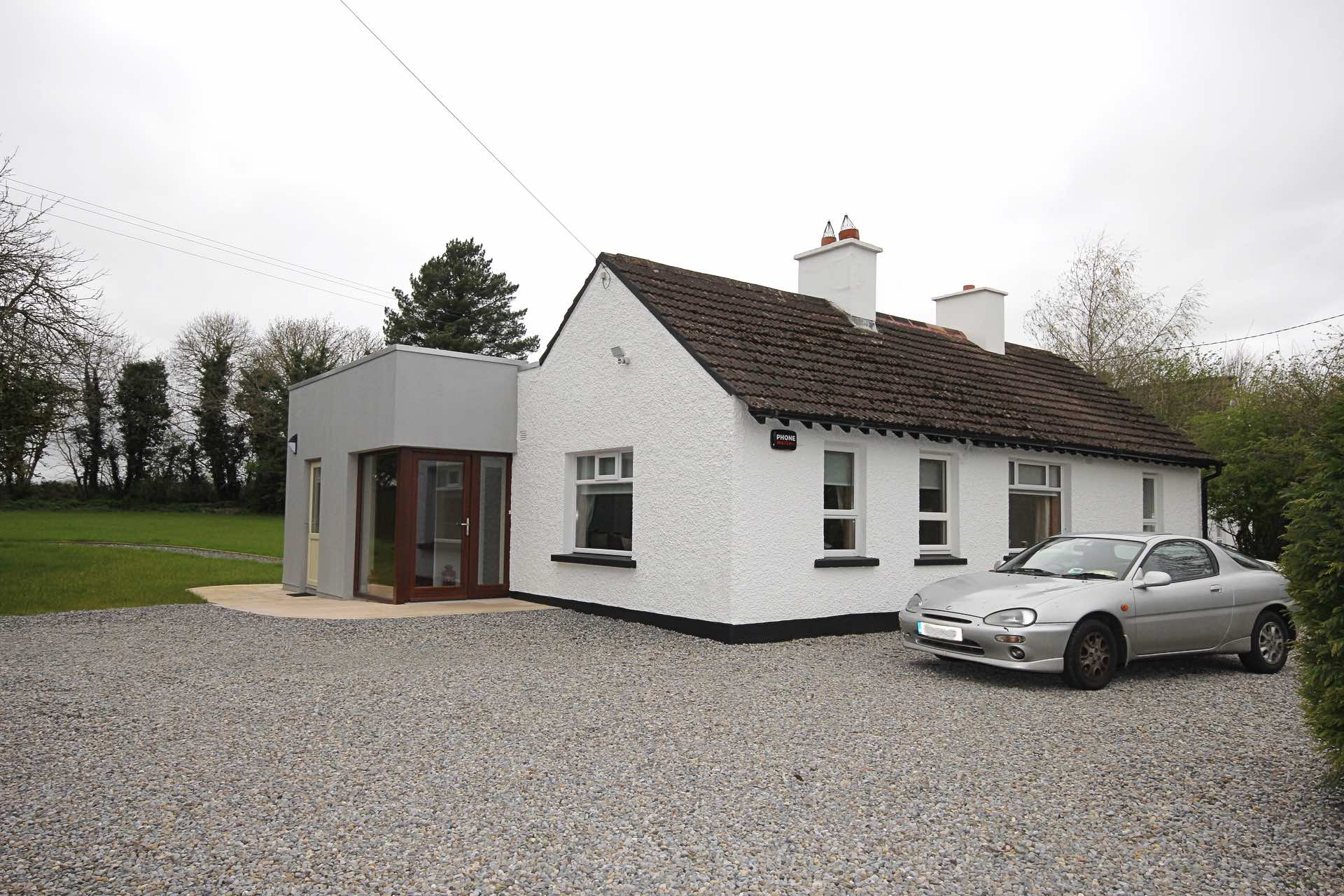 When we first saw the house it was a traditional three room cottage with a basic extension (1980s) off the central room to the back to provide a small kitchen, basic bathroom & scullery area. The middle room, a sitting room was really just a throughway serving the bedroom on one side and a second sitting room on the other. There was hardly any storage space.
The brief for this project was to develop a new plan that would add an extra bedroom with en-suite, good storage, proper bathroom and utility rooms, storage while creating a warm, energy efficient home that maximized on natural daylight and had a connection with the huge garden that was barely visible from inside the house.
As always, the budget for the work was an important consideration as we were seeking to do a lot of work and building in the countryside comes with its own set of considerations and requirements in terms of achieving planning permission.
The decision to build parallel to the existing 1930s mass concrete cottage means that only the entrance is visible as you approach the house.  It is not until you are inside or at the back that you discover how the house unfolds be much larger than anticipated.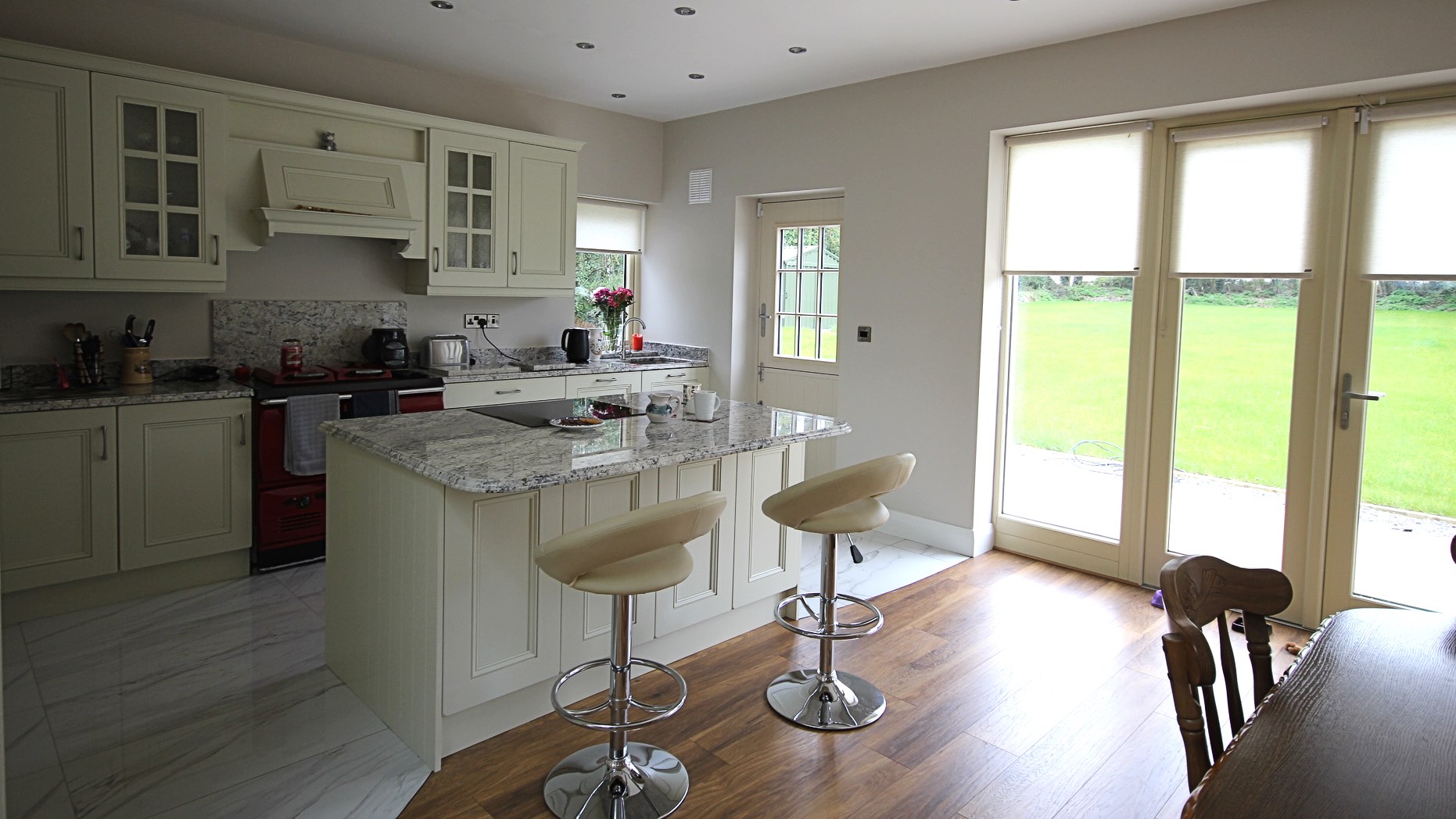 The design created a new entrance area, moved the existing bedroom door so that the bedroom is accessed off a new enclosed hall serving the bathroom and both bedrooms, (the new one being en-suite).  The door to the middle room was widened to make a big opening onto the extension giving through views to the garden and the addition of large roof-lights means that the hithertoo gloomy room is now lovely and bright.  Removing the bedroom door also makes it easier to furnish and less of a throughway.
French doors from both the dining-kitchen room and new bedroom allow for al-fresco dining and instant access to the garden and bring a sense of the outdoors in.  The house is now full of light as rooflights were employed throughout to take maximum advantage of available light and add height.  The resulting bright interiors with garden views give a feeling of well-being.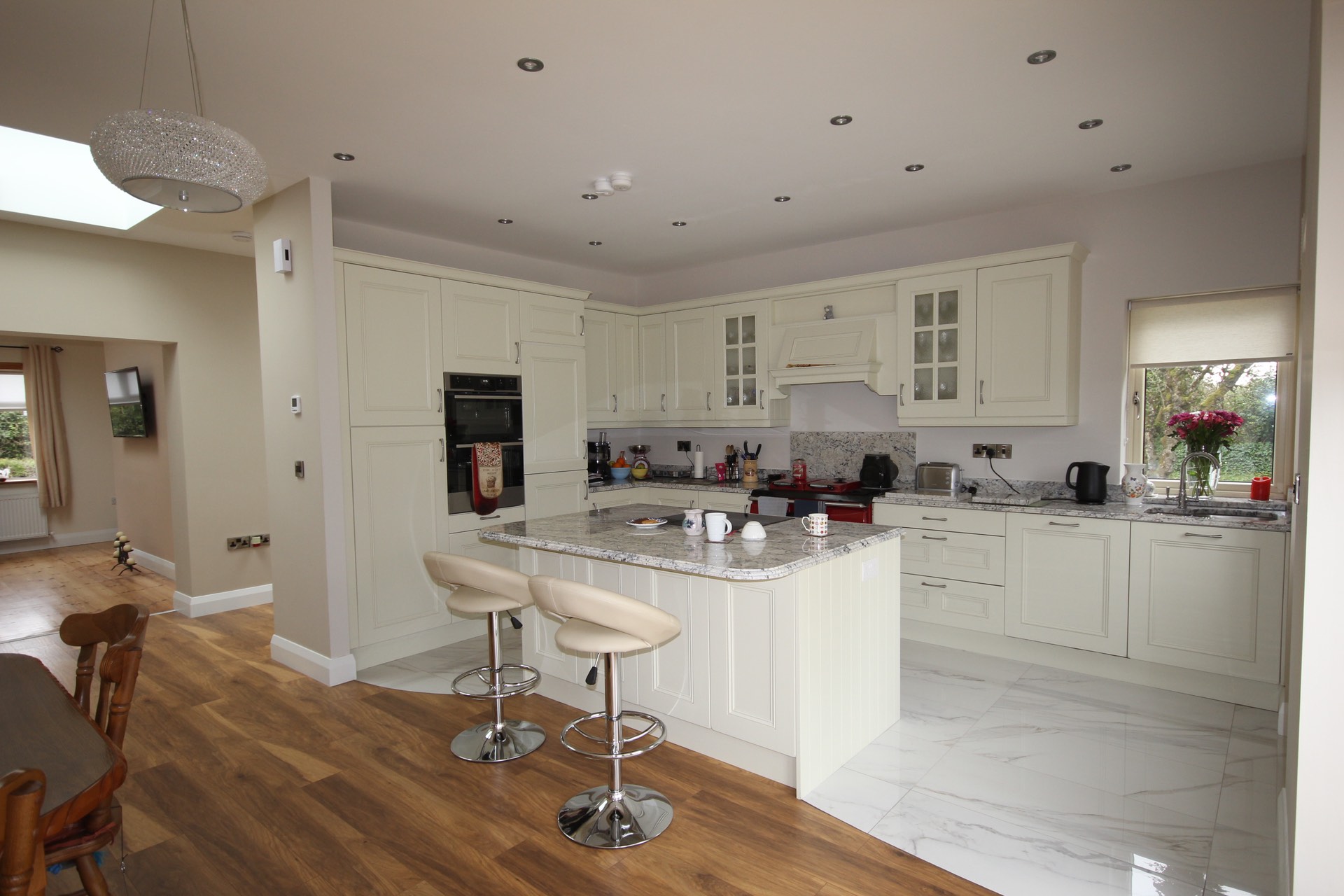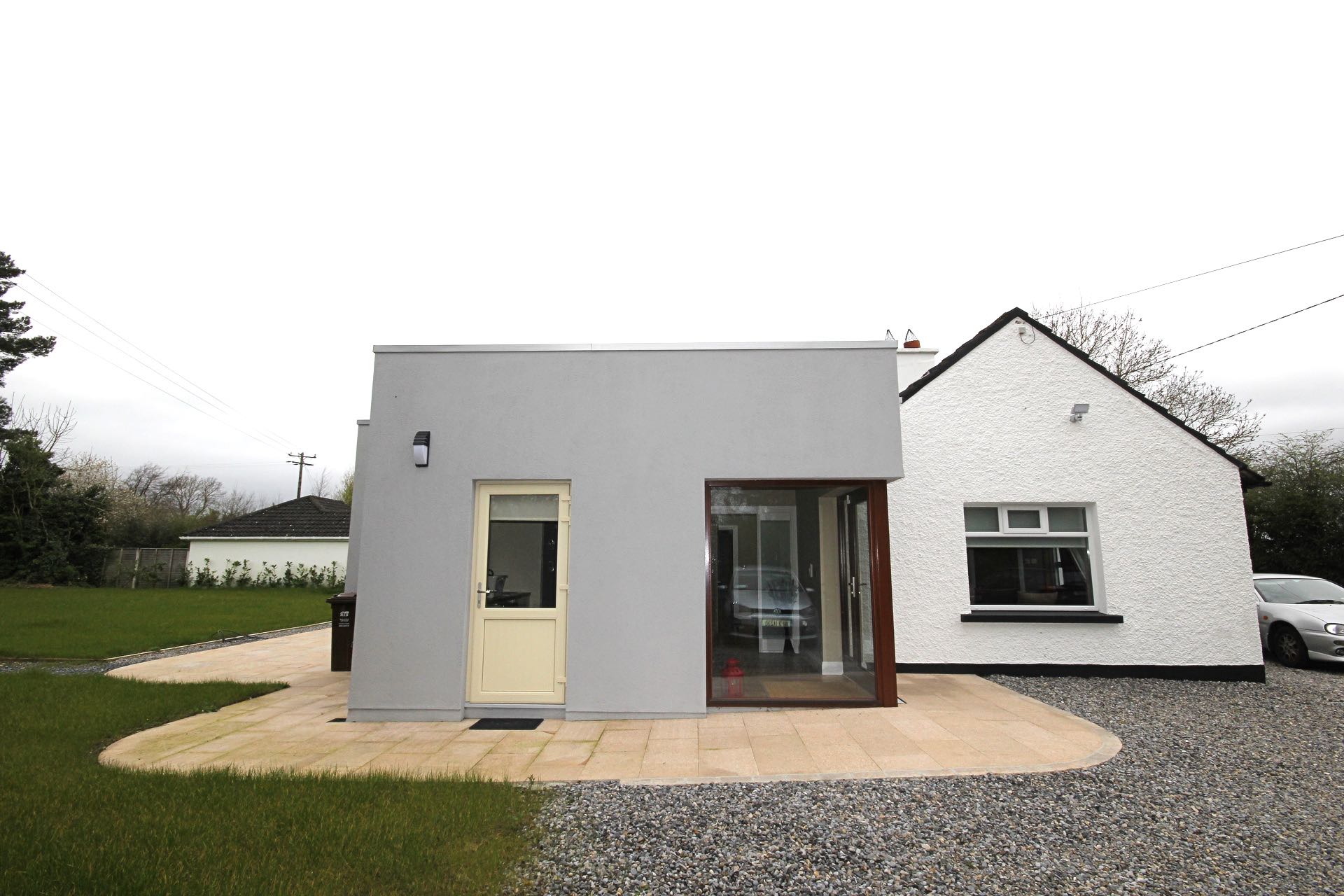 The extension is highly insulated and the existing roof area, (the walls had already been done), was insulated as part of the works, new high quality energy efficient windows throughout, underfloor heating in the extension, heating system upgrade, new boiler and hot water cylinder.  Built in fitted storage was included throughout the design of this project. All of which combine to make for an extremely comfortable home.
"
We had an old 1950's country bungalow with a small extension that was built in the 1980's.
Although the extension served its purpose, it was always too small, dark and often felt cramped. We had thought for many years about doing something to make our home more comfortable and my wife always dreamed of having a kitchen with plenty of workspace.
We went to a Home Exhibition show and that's where we met Tara and after only a short conversation, we knew that it was right time to look into this further and that we had met the right person to make my wife's dream a reality.
From start to finish Tara's professionalism shone through. Nothing was ever beyond the reach of possibility. She provided us with ideas and designs that we never would have thought possible. Beyond the design, she also managed the whole project and worked hand in hand with our builder, ensuring that short cuts were not taken, that only the best materials were used, that we received the best value for our money and a had home that we was beyond what we had ever hoped for.
We never could have done it without her.
From having a tight dreary kitchen, not only did we now have a spacious open, bright kitchen with a large workspace (my wife's dream came to life) and dining area, we also managed to add in an extra bedroom with an ensuite, a utility room and a foyer to greet our guests.
I can't thank Tara enough.
"
Mary and Keith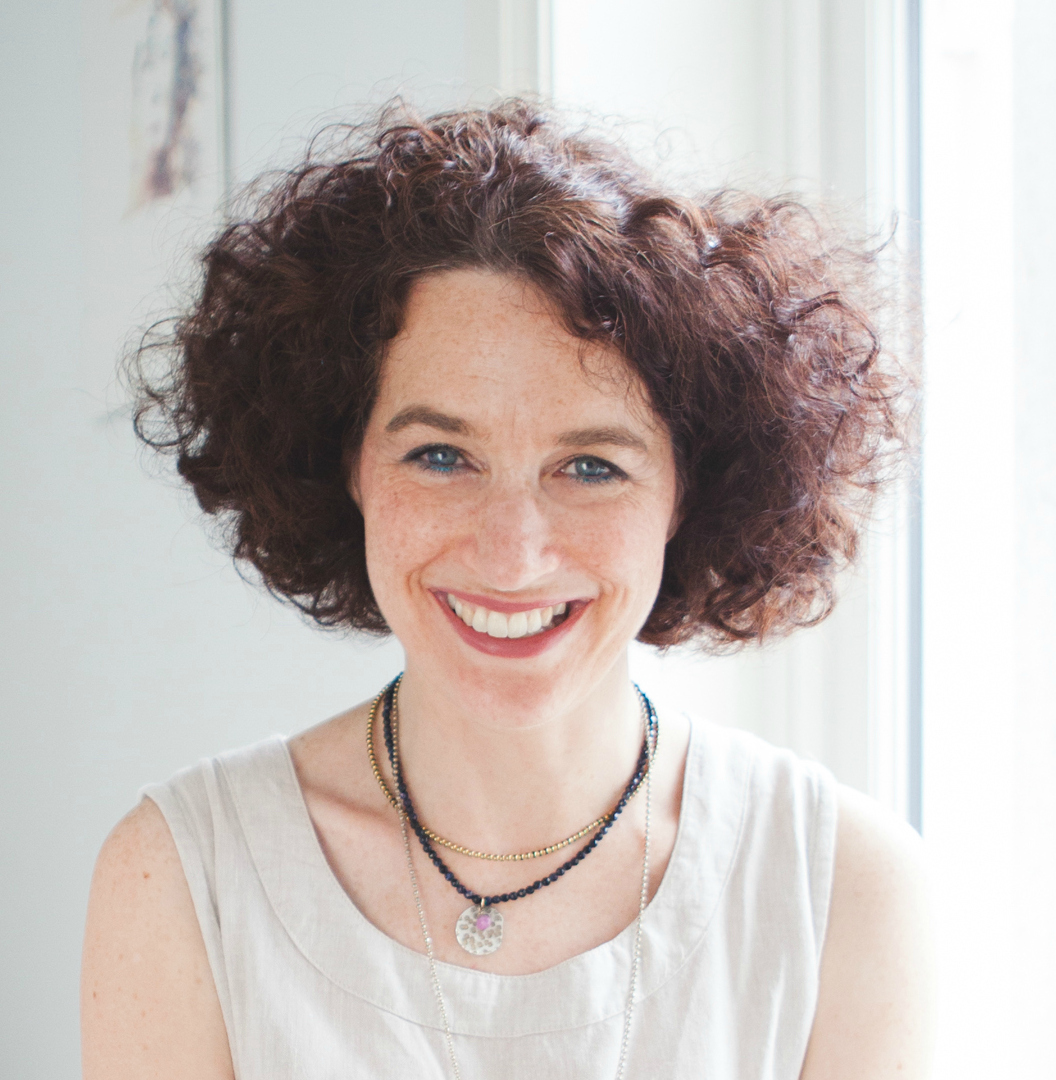 Architect B.Arch.MRIAI
RIAI Practice accredited in Conservation at Grade 3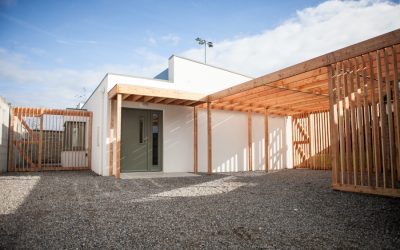 Killiney New HouseA beautiful, light-filled family home, BER A Rating.  A modern 3 bedroom house inserted into a corner site set back from the road beside dormer bungalows. Designed around the garden, inside outside feel and great flow throughout. The original brief...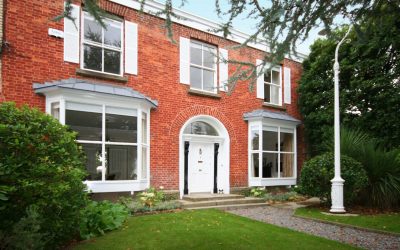 Repairs, Alterarations and Extension to a Family Home in an Area of Residential Conservation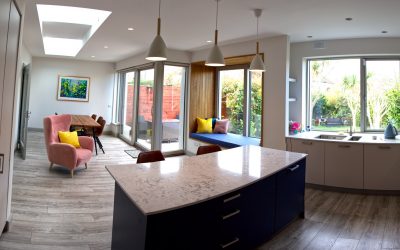 Glenageary ExtensionThe brief for this project was to replace an existing extension of very poor construction that was generally very cold and unattractive to the back, similarly miserable side passage enclosure with a new modern, bright, well insulated kitchen-dining...